Welcome to the Department of Applied Chemistry and Chemical Engineering
Mission and Vision
To be provided soon.....
Message from the Chairman
Dr. Md. Ashraful Alam
Chairman and Professor
Department of Applied Chemistry and Chemical Engineering
Welcome to ACCE department.
Officers and Staff
#
Name
Designation
Photo
Contact Number
Comming soon...
Notice and Forms
Sl. No
Name
Download Link
Not found
Contact Address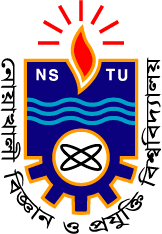 Mailing Address
Noakhali Science and Technology University
Noakhali-3814, Noakhali.
(Office Hour: 9:00 AM to 5:00 PM, Days: Sunday to Thursday, Closed weekend day: Friday and Saturday)
Website : www.nstu.edu.bd