Welcome to the Department of Environmental Science and Disaster Management
ESDM at a glance
The government of People's Republic of Bangladesh emphasizes the need for environmental conservation, infrastructure development and capacity building considering the adverse impacts of environmental pollution and improvement of environmental condition focusing the country. To play a critical role in the conservation and development of environment, a number of public Universities in the country introduced a department namely "Environmental Science". At this core, Noakhali Science and Technology University has started the Department of Environmental Science and Hazard Studies (ESHS) in the year 2012 under the Faculty of Science. The department has started its academic activities on 18th March, 2012 with 65 students and three full time faculty members. Later, the name of the department is changed to "Department of Environmental Science and Disaster Management (ESDM)". Now the students of this Department are around 350 pursuing their B.Sc. (Hons.) and MS degree. The MS program has kicked off September, 2017. Since the B.Sc. degree offered by the department is multi-disciplinary, the curricula amalgamated various subjects to make total credits 168 of which 20 credits are bestowed to laboratory (Practical) works. The MS program consists of 43 credits of which 13 courses are research works on different environmental issues. The Department is enriched with biological and chemical laboratories, with sufficient books and journal of updated editions. The department arranges workshop, seminar, symposium, conference and cultural programs at regular interval. Field Trip to different Eco-important places in Bangladesh and establishments are made compulsory. Students are introduced to different environmental setup and resources during the field trip and observe and study natural diversity, anthropocentric interventions and trends. All students write a field work/tour report and appear in a viva-voce. With the resources available, the department is committed to help produce future competent environmental scientists. The mission of the Department will only be met, if the products of the Department, get opportunity to work for environmental conservation and sustainable resource management. So far, ESDM has collaborated with a number of local and national governmental and non-governmental organizations in a number of occasions. Further, the department hopes to build up relations with academic and research institutes home and abroad.
Mission and Vision
Our Mission
Our mission is-
1. To create and effectively disseminate fundamental knowledge about Environment, its components and resources, and the processes by which it changes in a collaborative interdisciplinary setting.
2. To provide diverse learning experiences using state-of-the-art lab facilities and diverse field site.
3. To create an academic culture of mutual respect and intellectual collaboration this ensures environmental stewardship and service to humanity through expansion and dissemination of environmental science knowledge.
4. To conduct priority based research on contemporary environmental issues and producing scholarly works in the field environmental science with nationally and internationally recognized research grants.
Our vision
The Department of Environmental Science and Disaster Management (ESDM) will develop the knowledge, talent and leadership among the students to help them understand the fundamentals of environmental processes, their changing patterns and global challenges; to contribute to innovative and transformative researches in environmental science discipline and to ensure clean, safe, secured and sustainable environment for human.
Message from the Chairman
Dr. Mohammad. Mohinuzzaman
Chairman and Associate Professor
Department of Environmental Science and Disaster Management
With the human's everlasting activities towards development, in this complex natural world, the harmony between the elements of environment is only being altered- creating environmental pollution! To understand the nature of the problems, it is obvious that earth's physical and biological processes are deeply known. This is why the dedicated study of Environmental Science is so important.
With an aim to create an informed and trained pro-environmental leadership, the Department of Environmental Science and Disaster Management (ESDM) started their journey at the Noakhali Science and Technology University (NSTU) in March, 2012 as an interdisciplinary undergraduate program. The degree we offer covers almost all major aspects of this discipline having particular concentration on disaster management. With quality BSc (Hons.) and MS degrees, it will provide the graduates with the options for postgraduate study or a career in the environment-related sectors in the current job market in Bangladesh featuring conservation or management of environment.
In coming years, side by side producing quality graduates, we will have the opportunity to deliver quality research and noble ideas and skills the broader arena of Environmental Science and Disaster Management.
Md. Mohinuzzaman
Chairman
Department of Environmental Science and Disaster Management
Officers and Staff
#
Name
Designation
Photo
Contact Number
Comming soon...
Notice and Forms
Sl. No
Name
Download Link
Not found
Contact Address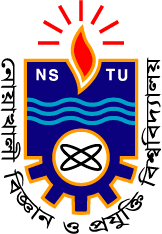 Mailing Address
Noakhali Science and Technology University
Noakhali-3814, Noakhali.
(Office Hour: 9:00 AM to 5:00 PM, Days: Sunday to Thursday, Closed weekend day: Friday and Saturday)
Website : www.nstu.edu.bd