Welcome to the Department of Applied Mathematics
Mission and Vision
Vission
To bulid the quality graduates in the filed of Applied Mathematics through academic, research and practical knowledge.
Mission
Develop quality faculty members through diversified learning environment in the process of learing, teaching and research.
Facilitate interdisciplinary faculty and students essentials.
Enrich the academic quality of the students through practical, updated and competetative learning environment.
Provide effective guidelines and pathways to the students so that they are able to build themselves for the upcoming challenges in the new and competetative job field.
Overview
Department of Applied Mathematics is one of the most prominent and well-organized deparments of Noakhali Science and Technology University (NSTU). In NSTU this department was inaugurated in 2010. Dept. of Applied Mathematics offers a 4 years BS with 160 credit hours and 1 year MS (Thesis/Non-Thesis) with 34/36 credit hours. In every intake, this department enroll 50 students under the faculty of science of this university. 10th batch has already completed their MS and explored their career at diversified field in home and abroad. The department of Applied Mathematics is facilated with adequette faculty members of high academic excellance. Different club activities, lab and class facilities, extra curricular activities, and supporting staffs are also available. If you think to get quality education through a sound environment for a better career, then dept. of Applied mathematics is welcoming you.
Message from the Chairman
Professor Dr. Muhammad Hanif Murad
Chairman and Professor
Department of Applied Mathematics
Welcome to the Department of Applied Mathematics, the center of Applied Mathematics research and edification at Noakhali Science and Technology University. This is the place for those who are passionate to build their career in dynamic, effective and competetative environment in various fields of Applied Mathematics to meet the challenge of industry 4.0 revolution. Our graduate and undergraduate programs trains the students in the use of optimization, discrete mathematics, financial mathematics, numerical analysis, through our academic programs and the many research opportunities they can enjoy.
From the beginning of this department we have focused on quality education, practical experiments and job oriented research. Many of our faculties has obtained their PhD programs from foreign universities. Our students have already showed their effectiveness in job sectors of home and abroad. This has been possible due to the continuous support of some passionate and rigorous faculty members and their relentless cooperation with students and other supportings. Although there are some limitations, our deparment is commited to show the best of its academic excellance to glorify our beloved NSTU. Effective and eminent faculty members, proper planning of classes and exam schedules, publishing results within short time, adequette computers and lab facilities, academic tours, club activities, updated syllabus and cooperative environments among teachers and students make this deparment as a proment one. These are least but not the last. Our very best attempt will be always continued to attain the best of the best.
Officers and Staff
#
Name
Designation
Photo
Contact Number
Comming soon...
Notice and Forms
Sl. No
Name
Download Link
Not found
Contact Address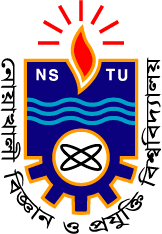 Mailing Address
Noakhali Science and Technology University
Noakhali-3814, Noakhali.
(Office Hour: 9:00 AM to 5:00 PM, Days: Sunday to Thursday, Closed weekend day: Friday and Saturday)
Website : www.nstu.edu.bd