Welcome to the Department of Bangladesh and Muktijuddho Studies
Start: Started with the academic recognition of UGC in 2015. Opening: 12 November 2015 It is a pioneering department in Bangladesh relating to different dimensions of Bangladesh and its glorious War of Liberation. A Course of this discipline entitled "History of the Emergence of Independent Bangladesh" is compulsory for all other departments in their first semester. The first honors batch of this department is admitted in 2016-17 session.
Mission and Vision
Vision
To become the most prestigious discipline in the studies of Bangladesh and the Liberation War.
Mission
Creating highly skilled graduates, conducting high-quality research and expanding patriotism as well as internationalism.
Message from the Chairman
Prof. Dr. Dibyadyuti Sarkar (ড. দিব্যদ্যুতি সরকার)
Chairman and Professor
Department of Bangladesh and Muktijuddho Studies
Bangladesh and Liberation War Studies is a unique and pioneering discipline at the university level of Bangladesh in study and research on the Liberation War. In particular, this department is constantly working on building of academic narratives of the Liberation War. In addition to the study of the Liberation War, this department researches various aspects such as society, culture, history, heritage, politics, development, environment, gender studies, internationalism, etc. of Bangladesh. Students here are being enriched with a higher knowledge of their homeland and the world on the one hand, and on the other hand, they are also becoming qualified for post-degree workplaces. Welcome everyone to be inspired by patriotism and universality. We also warmly welcome everyone from home and abroad to study and research in this department.
Officers and Staff
#
Name
Designation
Photo
Contact Number
Comming soon...
Notice and Forms
Sl. No
Name
Download Link
Not found
Contact Address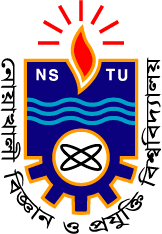 Mailing Address
Noakhali Science and Technology University
Noakhali-3814, Noakhali.
(Office Hour: 9:00 AM to 5:00 PM, Days: Sunday to Thursday, Closed weekend day: Friday and Saturday)
Website : www.nstu.edu.bd