Welcome to the Department of Sociology
Sociology is one of the youngest disciplines of all social sciences. It is popularly known as the science of society. In other words, It is the scientific study of human society. It seeks to examine social behavior, social relationships and social structure scientifically. The Department of Sociology was established on September 11, 2017 and started its academic journey from 2017-2018 academic sessions under the Faculty of Social Sciences and Humanities of the Noakhali Science and Technology University (NSTU). Presently, the Department offers Bachelor of Social Sciences (Honors) degree in Sociology which involves four year-long undergraduate program. The Department has a yearly intake of 50 undergraduate enrollments. At present, there are three qualified faculty members working at the Department, of whom one is associate professor, the rest are lecturers. However, one faculty-member is on leave to pursue her doctoral study at the University of New England, Australia. More qualified teachers are expected to join soon. The faculty members are well-dedicated and have outstanding academic profiles and research experiences in diverse areas of social sciences. Now-a-days, sociologists could play an important role by examining such complicated issues which affect human life and hamper peace, harmony and societal progress. As such, we put special emphasis on both quantitative and qualitative approaches of social research so that the students could play an instrumental role as good researchers in future. While globalization has brought out a wide range of opportunities, it has posed a number of challenges and created unequal benefits across the world. The world has become more competitive. As such, the Department of Sociology, NSTU understands that to cope with global competitiveness and keep pace with globalized world, it is very important to ensure quality education and all-round development of the students. Hence, the faculty members are dedicated to focus on co-curricular activities alongside formal academic learning. To develop the full potentials of the learners, the Department has recently set up a debating club, a language club and a nature club as well. The Department of Sociology is situated in the third floor of the Bir Muktijoddha Haji Mohammad Idris Auditorium Building with well-equipped classrooms and other modern facilities.
Mission and Vision
Vision:
" To become a centre of excellence in sociological education and research in Bangladesh"
Missions:
• To provide quality education in sociology with giving much emphasison theory and research;
• To generate sociologists, researchers and development practitioners in Bangladesh;
• To supply quality and smart teachers in sociology to the Govt. Colleges and other such educational institutions in Bangladesh.
Message from the Chairman
Dr. Md. Roknuzzaman Siddiky
Chairman and Professor
Department of Sociology
Welcome to the Department of Sociology, NSTU!!!!
The Department of Sociology is one of the fast-growing departments of the NSTU. Since its beginning, the Department has been trying to provide quality education with a team of very qualified and enthusiastic faculty members who have sound sociological insights and knowledge both in theory and practice.
The present global society is known as the knowledge and information-based society. Both knowledge and information are necessary to compete, survive and succeed. Hence, we are in the process of building partnership with the renowned home and overseas universities in order to share knowledge and
disseminate information. I do hope that with the constant efforts of faculty members and valuable supports from the Honorable Vice Chancellor, the Department of Sociology of the NSTU will create a platform in near future where students, teachers and scholars from home and abroad would interact and exchange their scientific knowledge and thereby contribute to the expansion of knowledge and information-based society.
Dr. Md. Roknuzzaman Siddiky
Professor & Chairman
The Department of Sociology, NSTU
Officers and Staff
#
Name
Designation
Photo
Contact Number
Comming soon...
Notice and Forms
Sl. No
Name
Download Link
Not found
Contact Address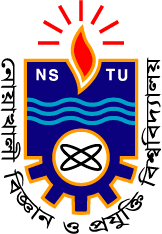 Mailing Address
Noakhali Science and Technology University
Noakhali-3814, Noakhali.
(Office Hour: 9:00 AM to 5:00 PM, Days: Sunday to Thursday, Closed weekend day: Friday and Saturday)
Website : www.nstu.edu.bd